Smoke's Poutinerie
Email: [email protected]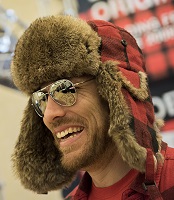 Ryan attended Wilfrid Laurier University in Waterloo, Ontario where he studied in the Business Co-Op Program. As a student, Smolkin established several successful business ventures including a portfolio of rental property investments which he built to over $4 million in assets before selling off all properties in 2004. After graduation Ryan established AmoebaCorp, a graphic design and branding company in Toronto. He remained there until 2007, after negotiating a merger with John Street Advertising.
He enjoyed a year of hanging out and bonding with his newborn twin boys, Nate and Sam, and then began the development of the Smoke's Poutinerie Franchise. Ryan is very proud to state that The World's Largest & Original Poutinerie was the spark that ignited the Global Poutine trend!
Ryan joined the We Care board in 2018, a cause that's close to his heart. Through the annual World Poutine Eating Championship, Smoke's Poutinerie has raised hundreds of thousands of dollars for We Care kids since 2016.